Huron Public Library
Library Mission
The Huron Public Library will strive to enrich the quality of life in Huron by providing library materials and services which anticipate and respond to the informational, educational, and entertainment needs of Huron residents to promote life-long learning.

Library Events & News

Calendar

of events and programs
How to pre-register using the calendar?
*Find the event in the calendar. You can search by event name if you do not know the exact date.
*Double-click on the event name.
*If there are open seats for the event or the waitlist, then you will see a registration form to fill out.




Looking for library items?


Download the Librista app to find library items and manage your library account from your tablet or smartphone.
Librista for iPhone & iPad
Librista for Android




Log On with Library Card - see when items are due, set account reminders, pay fines, reserve books, suggest items, view history.

Please contact the Library if you find errors with your account.
My library card's value is...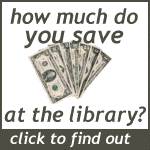 Contact Information
Library Hours
Monday - Thursday: 9am - 8pm
Friday: 9 am - 5 pm
Saturday: 9 am - 5pm
Sunday: Closed