City Government
City Commission Meetings
June 1 at 5:30pm - City Commission Meeting Live
In order to use the YouTube chat feature, please create an account with YouTube and Gmail or sign in with your current account.

Recorded meetings of the Huron City Commission may be viewed at the following, Commission Meeting


City Facilities Closed to the Public
Residents are encouraged to make online payments for city services including: utility bills (water, sewer garbage), library fees, building permits, parking tickets, City invoices, Huron Community Campus Invoices, hay permits, Huron Event Center Invoices, Rental housing permits, special assessments, trailer court licenses, etc. Any type of bill from the City of Huron may be paid online. If you have questions please call (605) 353-8502.

Entities operated by the City of Huron are closed to the public and will restrict gatherings to 10 or less people at one time to assure proper social distancing strategies as recommended by the Center for Disease Control (CDC).

Click here to read the Public Service Announcement


Camping Ordinance
On March 9th, 2020, the Huron City Commission held a discussion regarding a proposed ordinance that would add certain restrictions and regulations regarding temporary camping in Huron. The draft ordinance is merely in discussion stage and the City Planning Department is requesting public comment on the proposed language of the ordinance. Please click the following link to see the proposed draft of the ordinance.

Proposed Camping Ordinance

For those wishing to provide comments you may call, send/drop off or email written comments to:

Barry Cranston
Planning Director
City of Huron
P.O. Box 1369
239 Wisconsin Ave SW
Huron, SD 57350
planner@huronsd.com
605-353-8500 (voice)
605-353-8506 (fax)

It is our intent to provide the public with additional time in the form of a work session in the near future. Please watch for future announcements and/or invitations.

Snow Removal Procedures
A "Snow Removal Alert" means that an authorized city official has declared that snow removal operations will begin on public streets. Usually a Snow Alert is issued once we have received 2" or more of snow; however, alerts are also based on weather conditions such as wind and ice, as well as the amount of additional snow forecasted, and city crews may begin removing snow from emergency routes before the alert is issued. The local news media will announce when a Snow Removal Alert has been declared. Click Here for further details.
City Alert System
Civic Ready is a mass notification service to inform citizens through the website, email, text messaging, and voice calls about weather, Snow Alerts, safety, street closings, city service announcements and cancellations. We encourage all citizens to register their contact information along with specific notification preferences and a valid address so you are contacted when your area is being affected. Confirm your subscription immediately after by checking your email. In the event of an emergency this will allow the city to immediately notify citizens of an event.
Huron 3rd Safest City in South Dakota!
Huron has been listed as the third safest city in South Dakota. The city earned a 0.14 Safety Index score based on the strength of its violent and property crime rates below state average. Click Here to view the full report.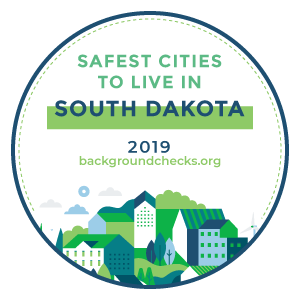 Recycling Update

EFFECTIVE IMMEDIATELY
- All plastic bags including film plastic grocery bags are NO LONGER ACCEPTED. Do not place these in your recycle bin. The
Recycling Guide
provides information about what may be recycled.
Click Here
for more information about Huron's comingled household recyclable collection program.
3rd Street Dam Improvement Project
Stockwell Engineers, Inc. was hired by the City to complete a study on the 3rd Street Dam and the hazards associated with it. To reduce ecological impacts and provide an economically feasible project, it was decided that the dam stay in place and undergo a retrofit to improve safety concerns surrounding the dam. Click Here for further details.








COVID-19

Call Center

:
(605) 353-6214

Guidelines

City of Huron
PO Box 1369
239 Wisconsin Ave SW
Huron, SD 57350
Ph: (605) 353-8502
Fx: (605) 353-8506
Upcoming Events